Dallars Events
Recent Events
David Livingstone Play
Being the bicentenary of the birth of Dr David Livingstone, the play was about him and his little known wife. Two professional actors played the two leads, and Alan Reid performed original music. Dave Dewar, author of the play, acted as interviewer. A wonderful performance all round - even the audience!
Poetry & Music on the Lawn
Makars and Music proved to be a very successful event, enjoyed by over 30 people. The homemade cakes went down well too!
Many thanks to Rowena, Michael, Sheila & Alan - and of course Fiona!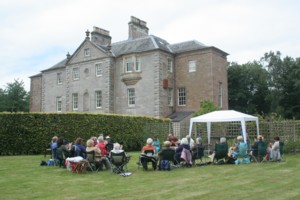 Past Events -
Para Handy Show
Hen Party Afternoon Tea
Plans for future events include -
Art Tuition Weekend
Autumn Music Evening
Murder Mystery Weekend